We are growing! As Zippin is scaling and continuously improving our technology and solutions, we want to update you on all the exciting things we're working on. Each month, we plan to showcase some interesting news from Zippin and the industry. Subscribe to our email to receive these monthly newsletters in your inbox.
Food Tech 25
We are honored to be featured in The Spoon's Food Tech 25 list for 2020! It's exciting to be included in the same list as Chipotle and the rest of the other innovative companies!
New store launch in Russia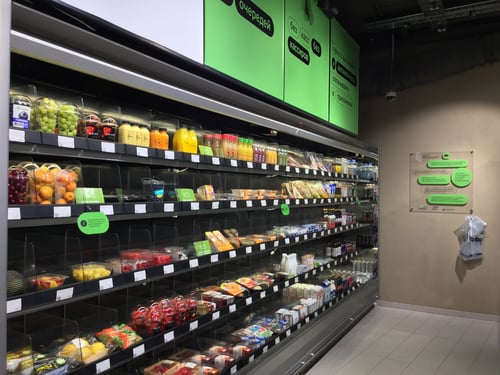 In May, we announced a new store launch in Europe! This store has many firsts…
First Zippin store in Europe
First grocery store powered by Zippin
First checkout-free store-within-a-store
We partnered with Sberbank, Visa, and Azbuka Vkusa, a leading grocery retailer in Russia, to launch the store during the coronavirus pandemic. Our team was able to work with Azbuka Vkusa and remotely set up the Zippin store by converting an aisle in one of their grocery stores in Moscow to be a checkout-free store.
This store launch has also been covered by The Spoon, RBC (in Russian), Yandex (in Russian), and YouTube channel Wylsacom (in Russian).
In case you didn't know, Zippin-powered stores can support…
Fresh food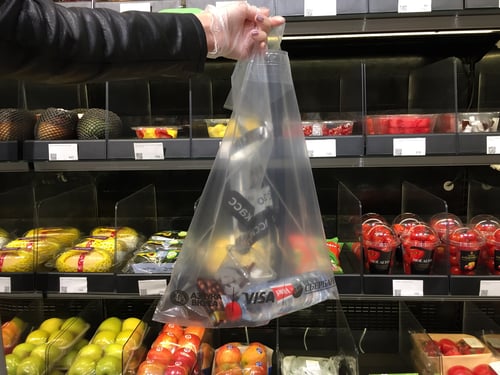 Zippin-powered stores can support packaged fresh foods like fruits, vegetables, and meals like salads and sandwiches. See this in action at the new store-wtihin-a-store in Azbuka Vkusa, where shoppers can find the fresh items that are available.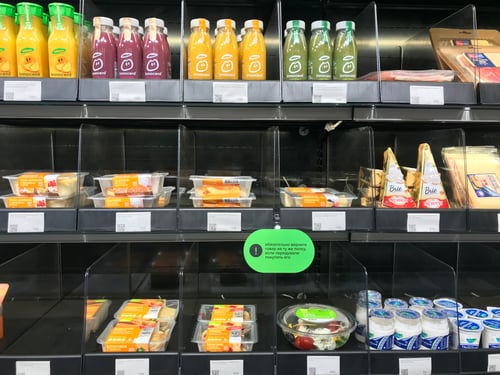 Palm readers at the entrance
To enter a Zippin-powered store, a shopper can scan a QR code from the app on their smartphone or swipe their credit card at the turnstile. Zippin also supports touch-free palm readers. The first store to use this functionality is in Tokyo, Japan, where Lawson, a convenience store chain, operates a Zippin-powered store in one of Fujitsu's office buildings for Fujitsu's employees.
Developed by Fujitsu Laboratories Ltd., the palm reader uses multi-biometric authentication combining palm vein and facial recognition to verify the shopper. Shoppers need to first register their palm and face with a dedicated registration terminal in order to link their biometric information to their payment information. At the turnstile entrance of the Zippin-powered store, shoppers can then wave their palm across the reader and have their face verified in order to enter the store.
Industry News
As countries and cities are beginning to reopen their economies and allow retailers to operate, retailers are thinking about how they should navigate the new post-pandemic retail landscape.
CIO posted an article on what retailers should consider as they rethink and redefine their stores as a result of the pandemic. Retailers should consider "execution-ready solutions available to build the foundations for a cashier-less or frictionless experience." Zippin solutions are execution-ready whether it's retrofitting existing spaces within a store or using the modular all-inclusive Zippin Cube that can be designed to fit in any space.
Contactless is a word that is being used more and more frequently but what does contactless retail entail? How can retailers keep their employees and customers safe? This article by Forbes lists out various options for retailers to consider. Zippin's technology uses AI Computer Vision (AICV) to bring checkout-free retail to fruition to provide shoppers a fully contactless retail shopping experience.
According to an article by TechHQ, 87% of US shoppers prefer to shop in stores with "touchless or robust self-checkout options" and 60% of American shoppers are afraid of shopping in a grocery store due to the pandemic. This highlights even more the importance of checkout-free retail technology to address the needs of shoppers.
Checkout-free retail technology also allows shoppers to save time at a store. According to a 2019 study from A.T. Kearney, 72% of retail consumers desire technology that can reduce time spent checking out. The percentage is probably even higher now as people don't want to risk potential exposure to the virus while waiting in line.
Additionally, 61% would like technology that can reduce the time spent looking for a product in store. Zippin-powered stores would be able to allow shoppers to remotely check and see what products are available via the app. In a social distancing world, this is an important time saver to know if the desired products are in stock.
Everyone is looking for ways to adjust to the "new normal" and Zippin-powered stores can help address many of these aspects.
We look forward to bringing you more news and updates in next month's edition. Hope you are staying safe and healthy!